These are the top handpans currently available for purchase through the internet – and we recommend that you do listen to what these instruments sound like while being played through the maker's website or on Youtube. Here is our rundown on the top handpans on the market.
---
#1. Bali Steel Pan
As the name suggests, Bali Steel Pans are made in Bali by a small team of three steel pan lovers: Chris Andersen, Ketut Suda, and Neghah Resna. Unlike many other handpan makers they do not have a waiting list and are able to fulfill orders with a much shorter turnaround in time. Bali Steel Pans feature:
Eight different scale options, including Dominant 7 (D), Baru (D and F), Major (D), Mixolydian (D), Integral (D), Big Bear (F) and Minor (F)
Reasonably priced shipping
Comes with a light grey steel finish
Bali Steel Pans are a great choice given their price, availability, and customization options for scale choices and because of the size of the team, you know that your handpan is going to be looked after by the same person from start to finish. There are no reviews for this product on their Amazon page yet, but this handpan is a good mid-range choice if you are after a handpan in a hurry.
Weight: 11 pounds
Dimensions 22.8 x 9.1 x 22.8 inches
---
#2. Skydrum Handpan 9 Notes (D Minor)
The Sky Drum in D Minor is a great drum if you're looking for a handpan with notes that are resonant enough to cut through in an ensemble. Its tones greatly resemble a bell, more so than the other handpans on the market. The Sky Drum features:
Nitration treatment for strength
A soft case for storage
Free international shipping
Made in Vietnam, the Sky Drum has the most unusual resonance throughout its body. The sound of each note is more like a bell than most, and you have to work a little harder to get a clean note out of the drum with your fingers. The supplier also warns that there are a few scuff marks and scratches on the surface – this shouldn't affect the sound quality but does make it the least aesthetically pleasing out of the options.
Diameter : 22.8 inch (58cm)
Height : 8.25inch (21cm)
Weight: 10 lbs (4.7 kgs)
---
#3. Tzevaot Aeolian Hand Pan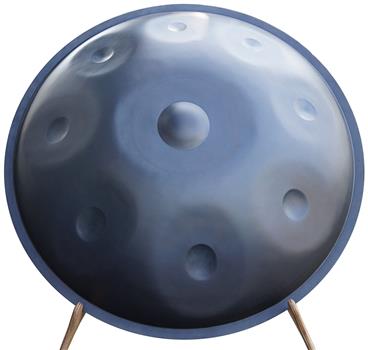 For a handpan that is well-tuned, comes ready to play, and is tuned to a standard and useful scale, this handpan is expensive compared to the other options. However, what you are paying for is the ability to buy it and have it sent to you almost immediately, a feat that is almost as rare as being able to buy an original hang drum.
The Tzevaot has a rich sound and perfect tuning and has a clean, uniform finish. Some of its many features include:
A nitride and nitrocarburized treatment for warmth and to make it rust resistant
A case which has a pressure equalization valve for changes in altitude, in-line wheels for easy transportation and an industrial-strength pull handle
Dimensions: 21 x 21 x 10 inches, weighs 10 lbs (4.7 kgs).
Comes with a case
This handpan has a good sound, comes with a case, and is well manufactured. Perfect for someone who wants their handpan now and can afford to buy one immediately.
#4. Lark Music Hand Pan
Cheapest among all the hand pan on the list, Lark Music provides you absolute sounds at a very affordable and practical price most especially for beginners. When lightly struck with fingers, this drum gives you its own personality of sound evident in its notes that have good resonance and vibration.
D Minor 9 notes (D3 A Bb C D E F G A)
Reasonably priced shipping
Made with steel in a light grey finish
Diameter : 22.8 inch (58cm)
Height : 10 inch (25.4cm)
Another great thing about Lark Music's hand pan is that it's packaged in a bag which is a plus for keeping the instrument safe and well-protected.
A good Space Drum Alternative : The Steel Tongue Drum
Steel tongue drums are smaller, cheaper, and easier to make and therefore the price for a good steel tongue drum is relatively comparable. Built out of empty propane tanks, they have up to ten tongues that are cut into the surface.
Besides their great look, the steel tongue drums are available for immediate purchase starting at $200. If you want a custom or designer-made steel tongue drum then the price reaches closer to $600. Hapi drum, Idiopan, and Guda are some of the most popular steel tongue drum brands currently on the market (all prices are in US Dollars).
---
Conclusion
If you've decided to buy a steel tongue drum and skip the waiting line for a handpan or original hang, then the price you pay will determine the clarity of sound and the number of options available for scale customization. However, if you don't mind what scale or key you play in and have no intention of playing with other instruments then a cheaper steel tongue drum is a perfect opportunity to buy an instrument that should last a lifetime.
With only three handpans on Amazon, the comparison between the three is not difficult to make. Your best bet is to view the seller's Youtube account to hear the instrument being played, and to then decide for yourself what instrument you prefer. The Skydrum option is more reasonable and unlike the Bali Steel Pan, it comes with a case. If you know you're going to play your handpan outside of your home then the Skydrum option is definitely recommended.
The steel in all of these steel tongue drums and handpans have been treated, but always remember that the better you take care of your drum by keeping it away from prolonged moisture and excessive amounts of oil (even the oil from your hands can be damaging), the better your instrument will sound.
Finally, if it seems too good to be true, it probably is! There are no truly "cheap" options when it comes to buying handpans or steel tongue drums because you are paying for quality steel and the hours that it takes to create and tune the instrument (not to mention the years of experience the maker will have put into learning how to make handpans).
Handpans are a beautiful instrument and if you make your investment wisely, you'll be rewarded with years of enjoyment. Buy something that will make you smile every time you play it and remember that the handpan was designed to bring peace through the airwaves.
Here is a Spacedrum music video by Yuki Koshimoto:
Love space drum music? Own one and start practicing!